Last Wednesday our church opened up the gym for our mops playdate. The kids had a ball running around the gym. Of course, there was a little ball stealing and tears but over all it was fun. It sure made for a good nap day when we got home.
Brynlee and James having a deep conversation.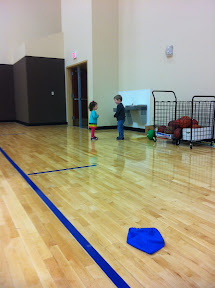 She kept going over to the doors and pointing out in the hall. I was trilled that she minded and didn't bolt. She is growing up so fast!
Playing with the water fountain was fun too. Here is Oliver and James. Brynlee had her entire sleeve soaked in a matter if seconds!
Posted using BlogPress from my iPhone