We had a playdate with my friend stefanie and her little one Hannah. Brynlee saw the 'baba' and ran to her room to get the paci she uses for her baby dolls. It was so cute. Brynlee also wanted to sit on her car seat and hug the baby (see picture below) the entire time. She is going to be a great big sister one of these days.
She was sitting in my lap watching tv. I looked down to see this...hum.
Playing in Grammy and papa's playhouse.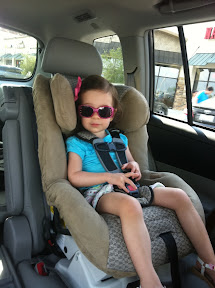 She looks so big in this picture.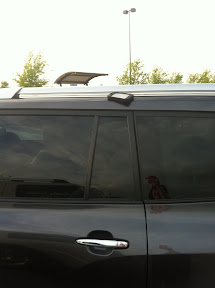 Do you see the phone?
Look close. Duane set his phone on our car to put Brynlee in then forgot about it. We went to home depot, back home for a second, then to wal-mart. He realized while in wal-mart that he left it on the car. We walked out expecting it to be GONE. This is how we found the phone. Hanging by the corner in the wal-mart parking lot. Even crazier that he got in and out of the car 3 times and never noticed. Not to mention all the people who got a good laugh seeing us drive by.
Birthday present from Grammy and PaPa.
HERE IT IS!!!!
Ready...Set...Go! She says it at the end.
My birthday dinner. I have the sweetest friends!
I HEART little girl shoes! So glad daddy does too! :)
Posted using BlogPress from my iPhone